The 12 Best Laptops for Computer Science Students in 2020 Reviewed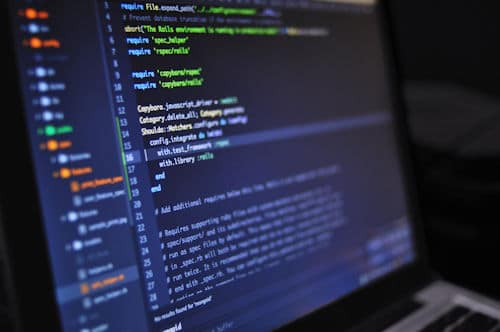 The desire of any craftsman is a good set of tools.
A mechanic needs quality wrenches, a chef needs really sharp knives, and a computer scientist has to have an excellent laptop to ply his trade.
When you go to school for comp sci you will live on your laptop. It will be your constant companion, and allow you to write, submit assignments, take notes, communicate with your professors, and of course – crank out code. It is such an important part of your studies that it is critical you choose the one that will make your studies easier not harder.
Don't have time to wade through all our deliberations? Then grab yourself a Microsoft Surface Book 2. It has the perfect combination of power and portability for most computer scientists.
Laptop Requirements For Comp Sci Students
In today's Computer Science curriculum students will learn to use software for programming in languages like C/C++/C#, as well as PHP, Java, Python, and more. While probably not as much as the laptop of an engineering student, math is still a big part of any college computer science program, so running MATLAB is a must. And with writing, spreadsheets, and database work also in store, the ability to run Microsoft Office well is non-negotiable.
Any decent computer science program will push its students, which means your laptop will need to keep up. To do that your computer should have a fast processor, lots of fast hard drive space, and as much memory as you can get. And since you will be coding into the wee hours of the night, having a quality display and a powerful graphics processor will make it easy on your sleep-deprived eyes. That means you likely won't be able to get buy with a laptop under $400 – as a budding computer professional your budget will need to be higher.
Best Laptops for Computer Science
Since comp sci students will be training in a variety of disciplines, it makes sense that they will need a well-rounded laptop. There are many portable computers that excel in one area or another, but we were searching for units that are strong competitors in every area. From that research, these are our picks for the best laptops for computer science students:
This laptop has a 13.5" screen with a PixelSense display which clocks in at 3,000 x 2,000. Microsoft have stated that the hinge is much stronger when compared to the one on the first-generation Surface Book. The deck and the keyboard are the same, but it is significantly larger when compared to other laptops that have a 13.5" screen. The keyboard feels great and the level of clickiness makes it very satisfying if you need it for computer programming.
The Surface Book 2 has a pair of 3.1 USB ports and it also comes complete with an SD card reader as well. At the right-hand side of the laptop, it has a USB Type-C port and it also has a Surface Connect port as well. On the bottom of the laptop, you also have a Surface Connect port and this means that you can charge it independently. The USB Type C port is a very big addition. Microsoft have stated that it wasn't ready for full adoption and therefore missing it out on a lot of releases, so the fact that this laptop takes things one step further by coming complete with a Thunderbolt 3, makes the whole thing very, very satisfying.
The display is the best-in-class. It's colorful, crisp and brilliant. The screen actually covers 130% of the sRGB gamut, and it clocks in at 374 nits of brightness. The average is 289 nits, so you can already see what a great product this is overall. This is quite possibly one of the best college laptops around too, due to the sheer capabilities that it has to offer.
The Surface Book 2's keyboard might be on the shallow side, with 1.2mm of thickness but the touchpad is very smooth and it also uses very precision drivers. The company designed this for Windows, which means that the gestures are recognized with ease too.
Sale
Microsoft Surface Book 2 13.5" (Intel Core i7, 16GB RAM, 512 GB)
Microsoft Surface Book 2 Features a 8th generation Intel Quad Core i7 Processor, 512 GB of storage, 16 GB RAM, and up to 17 hours of video playback
Enhanced Graphics performance with NVIDIA GeForce GTX 1050 discrete GPU w/2GB GDDR5 Graphics Memory
The fastest Surface Book yet, with 2x more power. Runs Windows 10 Pro
Vibrant PixelSense Display: now available with an improved 13.5" touchscreen
Four versatile modes of use and new USB-C port
This laptop is stylish, and it also comes with the Whisky Lake Chip by Intel. The number of ports are nothing short of generous and you also have a very strong performance if you work in computer science. The aluminium chassis comes in a Platinum Titan color and it is stylishly etched with a diamond-cut ridge which runs along the edge. The flourish is functional to say the least and this makes it very easy to grip. The laptop is very sturdy to our feel, in fact, some might even compare it to a Chromebook. It folds smoothly to 360 degrees and the display has a couple of fantastic features.
The maximum brightness stands at 296 nits and there's even an AMOLED photo mode as well. This provides a very rich photo color that is not to be missed. It's also one of the best mid-range laptop releases out right now.
Samsung seem to have followed the belief set by Apple that thin is certainly in.
The butterfly-style keyboard is very shallow, and this makes it much more comfortable for long-term use. Part of the comfort comes down to the spacious keys, which when pressed, sink beneath the surface level of the keyboard. This improves typing accuracy and it also helps you to have a much more comfortable typing experience overall. Samsung's propensity for coming up with an explanation whenever you tap a function key is also very nice, and if you work in computer science, then you'll find shortcuts like this very useful.
Samsung Notebook 9 Pen 15"-Intel Core i7-16GB Memory-512GB SSD
S Pen - unleash your creativity with the included, ultra-precise s Pen which never needs charging. With three interchangeable tips, you can replicate the feeling of writing, sketching, or painting with different textures. You can also use the handwriting recognition function to convert notes to text, transform sketches into diagrams, and even take screen clips.
Convertible design - supporting a scratch-resistant metal design, An Ocean Blue color and a striking yellow Pen, The notebook 9 pen is as sleek, stylish, and versatile. Use it as a laptop or simply rotate it to tablet mode for convenient presentation Display, entertainment viewing, or browsing apps with the touchscreen.
Fast-charging Battery - with the power to last up to 15 hours, there's no stopping your productivity. When it's time to recharge you can power up quickly, so you're right back to what you were doing.
Multitasking performance - equipped with the Intel 8th Generation i7 Processor and Gigabit Wi-Fi, the notebook 9 pen gives you the power and the agility to be productive. Get more done by quickly and efficiently switching between apps and Windows with ease. Experience blazing speeds? from booting up to multitasking TO launching advanced programs? thanks TO the included 512GB SSD. Active Pen also detects 4, 096 levels of pressure for exceptional precision.
Akg Audio - built with dual 5W speakers, Samsung's first PC tuned by AKG amps up your audio by delivering a powerful, cinematic-quality sound for all your movies, music and shows. Brightness - 350nit. (Outdoor Mode - 500nit)
Lenovo have produced a fantastic laptop and it's two-in-one as well. This means that you can transform your laptop into a tablet-like device. It's a premium product to say the least but you know that you are getting a powerful system that isn't going to let you down. If you work in computer science, then this is a must-have because the design is great. Another bonus is how thin the laptop is. You can take it with you anywhere and the sound quality is fantastic. There are many great laptops out there and they all have very good power as well. This one though stands at the top of the list as being a good investment, as it's a follow-up from the Lenovo Yoga 910. It expands on the overall design and it has the Thunderbolt 3 connectivity too. The webcam is reasonably placed, and the battery life is even longer. The laptop comes with various configurations but there aren't a confusing array of options. When you feel the weight of the laptop, you will soon find that it doesn't feel overly heavy and the nice metallic finish makes it feel very durable as well. This contributes to the overall feel and the hinges are eye-catching to say the least. There is no doubt that the strength and durability of this is off the charts and it's ideal for those who are always on the go or even for those who need a laptop that can withstand being used for long periods of time and under high intensity as well. This alone makes it the best laptop for computer science.
The great thing about this laptop is that it has a near-borderless display and it also has a very lightweight aesthetic as well. Dell's flagship premium model now comes in a brand-new design and it's also got much slimmer dimensions too. The classic colour scheme has stayed, and the display is stunning. The laptop comes with a much better webcam when compared and the cooling system ultimately means that you can take advantage of a stronger, but much more sustained performance. To make the laptop as thin as possible, Dell made the decision to get rid of the USB-A ports and they also swapped to a smaller battery as well. Some users may find that the older model is better as it does have the USB-A port but at the end of the day, if you want the best portability, power and design then this is one laptop that you won't want to miss out on at all. If you put